Becoming Parents with the help of surrogate mother is an expensive journey.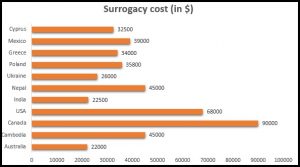 Parenthood via surrogacy is an expensive journey.  At IVF Conceptions, we understand that money should not be a reason to stop achieving parenthood.  That is why, we constantly work on to have low-cost surrogacy option for Intended Parents.
Although most affordable surrogacy options across the Asia are banned or getting banned, we still strive to look out most economical ways available.
We offer a variety of surrogacy program in multiple destinations.  Thus, providing multiple options that might just suit your individual needs.
As everyone surrogacy requirements are not same, so we manage each case in a unique way.  Being flexibility and financial transparency is need of the day, and we just do that.
You can bring your own egg donor, or use egg donors of any ethnicity from our vast egg donor database.
We give the option of managing travel of surrogate mother for embryo transfer in your IVF Clinic.
If required, our compassionate surrogate mothers are ready to travel to your city to give birth to a baby.
We are open to working with multiple IVF clinics. If you have shortlisted any IVF clinic, we will be happy to coordinate to bring surrogate for embryos transfer in your choice of Clinic.
Flexible and transparent payment options available.
Sometimes to be confident, it is good to talk to someone who already has the journey. We are open to offering a reference of previous IPs, who are ready to help other to realize their dream.
We are "One Stop Shop"- literally taking your through the selection of the egg donors, surrogate mothers, through the medical and legal process of baby exit and beyond that.
Briefly, find below the approximate cost of our various program.
| | | | | | | |
| --- | --- | --- | --- | --- | --- | --- |
| PROGRAMS | RUSSIA | USA | UKRAINE | GEORIGA | LAOS | KENYA |
| | | | | | | |
| IVF Self Cycle Surrogacy | $45k-$48K | $75k-$80K | $37K-$40k | $35K-$40k | $45k-$48K | $37K-$40K |
| | | | | | | |
| IVF Egg Donor Surrogacy | $50K-$53K | $80k-$85K | $42-$45K | $40-$42K | $50K-$53K | $40-$42K |
| | | | | | | |
| Frozen Embryos Surrogacy | $38K-$40K | $70k | $33K-$35K | $33K-$35K | $39-$40K | $35k |
Please note that price for optional services like PGD/PGS, twins bonus to a surrogate mother, C-Section delivery of baby/babies, NICU cost of premature baby/babies, DNA Test fee, and cost of traveling and accommodation is not included.
Please feel free to get in touch with us to know more about most cost-effective option for your specific case.