How much does surrogacy cost in Georiga, Tiblisi is a lot less than what you think!
One factor which makes a surrogacy process out of reach for many couples is high surrogacy cost. But the unbelievably low surrogacy cost in Georiga is like a dream come true for parents.
When it comes to countries where surrogacy is legal, the Republic of Georgia can take the number one spot.  There are many reasons to consider surrogacy in Georgia.
Compensated surrogacy is legally available in Georiga since 1997.  The international surrogacy seekers did not pay much attention to this small east European country before.  But after the ban on surrogacy in Asian countries like India, Nepal, Thailand, and Cambodia.  Georgia is becoming a new hub for international surrogacy. However, prospective parents should know that only hetero couples are legal can do surrogacy in Georgia.  Single parent or gay couples, need to look out other options like surrogacy in Colombia. 
It is not wrong to say that Georiga can be the cheapest surrogacy country. What makes it more lucrative is legal complete legal protection for both parents and surrogate mother.  It is a great boon to the childless couples.
Calculating the surrogacy price in Georgia.
Mostly calculating the actual surrogacy cost is not easy.  It depends on so many factors and slightly different for each case, depending upon what actual services they need.  Some parents might need all the services, and so their surrogacy cost can be lower.
Simply put, the individual requirements of each couple can influence the overall surrogacy cost in Georiga.
Just to explain:
Egg donor requirements, local or travelling egg donor can make the price more than couples who do not need an egg donor.
If Preimplantation Genetic Diagnosis (PGD) is needed, the overall cost can go really high.
In the case of twins, the surrogate mother compensation and baby delivery fee or sometime NICU fee can make the cost higher.
No matter what is your specific case, the general surrogacy cost in Georiga is range from $30,000 for standard egg donor surrogacy program to $60,000 for the guaranteed surrogacy baby plan.
The standard surrogacy cost consists of :
Surrogacy agency fee
Surrogate recruitment fee
Egg donor recruitment fee
Tests and preparation of the egg donor and surrogate mother before the IVF procedure.
One cycle of IVF fee.
Antenatal care of the surrogate mother.
Surrogate mother compensation
Baby delivery fee
Legal assistance
Lax regulation has made compensated surrogacy in Georgia available to foreigners at an attractive price. Among the few East European countries that permit paid surrogacy services, Georgia is extremely affordable.
It is not that Georgia's healthcare system can be compared to some of the best in the world. However, a growing number of modernized Fertility Clinic in Tiblisi are offering quality fertility treatments to foreigner couple who are willing to cross the border to have a child of their own.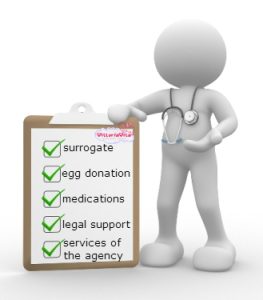 The key features that make lower surrogacy cost in Georgia are:
The cost of surrogacy in Georgia is surprisingly lower than what you think. One can avail a full surrogacy program within $30,000-$45,000 which would include charges for the surrogate, medical consultation, procedures involved, diagnostic tests, and childbirth and aftercare.
Low-cost surrogate mothers. The surrogate mother compensation varies from country to country depending upon the living standards and medical treatment costs of the home country. The cost of living in the US is much higher than that of Georgia. A surrogate in Georgia can fulfill her requirements in less than half charges compared to her US counterpart. On average, a surrogate mother compensation in Georgia is paid around $10,000-$13,000. 
Considering the demand-supply gap, many young and healthy ladies are willingly accepting compensated surrogacy as a means of earning.
The low-cost medical procedure with good quality is available. Although the US fertility clinics are touted to be the best in the world, many reputed clinics in Georgia also maintain international standards and regularly submit their annual reports to the American Society of Reproductive Medicine.
A good number of professional egg donors with low compensation can make it easy to peruse fertility and surrogacy services in Georgia. The egg donors are young, beautiful and experienced, which make it easy for fertility clinics to offer Assisted Reproductive Services with an egg donor.
Guarantee surrogacy baby plan in Georiga
No couple wants to return empty-handed after substantial financial and emotional investment. Success in first chance cannot be achieved in most IVF assisted surrogacy programs.
One may have to go through several IVF cycles for a successful conception leading to a wide variation in cost.
To take care of this fear of the intended parents, few IVF clinic in Tbilisi, guarantee surrogacy baby.  It is worth to mention that like any medical procedure, IVF does not guarantee success in one attempt ( sometimes it can!) .
That is why we can advise the most popular "guarantee surrogacy baby" program. The cost of Guarantee baby program in Georgia varies from $55,000 to $60,000. It includes the unlimited number of IVF cycles, egg donations, and surrogate transfers till live baby and it is almost half of the cost of surrogacy in the USA.
Conclusion for surrogacy in Georiga
The favourable surrogacy law in Georgia just makes it a more appealing destination.
The birth certificate of the child will bear the name of intended parents assuring full parental rights to them.
Only married heterosexual couples are allowed to do surrogacy in Georgia. That means making it not available to single parents and LGBT surrogacy seeker. No medical letter is needed to start the surrogacy.
On the evaluation of our surrogacy experience in multiple counties, it goes without saying that Surrogate mother cost is Georgia is lower.  It contributes to overall lower surrogacy price.  While surrogacy price can go up to $150,000 in the USA, the same procedure can be done in $35,000 in Georgia. Matter of fact, you can have a guaranteed surrogacy baby in as low as $55,000.
So, it is recommended to opt for much affordable yet legal surrogacy in Georiga.
Are you looking for surrogate mother in Georgia, we can help! To start your affordable yet trusted surrogacy journey in Georgia, contact us now!!