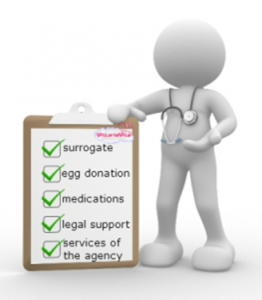 As if the experience of undergoing fertility treatment is not daunting enough, keeping track of associated cost is another distressing factor for fertility seeker.
If third party assistance is needed for achieving parenthood, then it is wise to understand the associated cost.  The key is to plan well in advance and be prepared for any unseen expenses. It goes without saying that some so-called "incidental cost" are part of all infertility treatments.
When becoming parent require fertility treatments it can be simple cost effective methods like IUI (Intrauterine Insemination) and IVF (In-Vitro Fertilization).   Only Intended Parents are involved in such infertility treatment and cost of IVF is fairly manageable.
However, sometimes couples need assistance from the third person to pursue their parenthood journey.  This is known as third-party reproduction.  These other people can be an Egg Donor or Surrogate Mother.   Beside them, legal advisor, surrogacy agency, and medical team play an integral role in family building in such cases.
An egg donor is a young lady who donates her eggs for monitory compensation, this is known as Egg Donor IVF.
Reason for seeking Egg Donor IVF can be as following-
Many couples need an egg donor due to age-related factor in a female partner or some medical condition like low AMH value.
Due to the absence of ovaries.
Some genetic condition which parent do not want to pass on to
For Gay men- IVF with Egg donor is only mean to become parents.
Egg donor assisted IVF is common nowadays.  You can choose known or anonymous egg donor for your infertility treatment.
For few couples, gestational carrier, known as a surrogate mother is only hope to become a parent.
Reason for seeking Gestational carrier can be as following-
This can be due to the absence of a
Age-related factor in the female
Some form of the severe medical condition, which makes it too risky to carry baby to term.
For gay men, taking help of surrogate mother as a gestational carrier is only option to become a parent.
Third party reproduction services need to be considered carefully after thorough research.   You can review complete checklist for Low cost surrogacy here.
Once you know the cost break up, it is easy to understand how to keep the cost low without compromising the quality or output of their program.  Below are few points to consider and depending upon the individual case, you can pick the best one or two for you.
IVF in developing countries– As IVF fee is alarmingly high in the US and most of other European countries. Opting for other countries where low cost IVF options are available is good decision. It is good to know that affordable IVF Treatment or low-cost IVF option is available in many countries without hampering the quality of services and success rate.  Do your research and see pro and con of choosing any location. Holidaying along with undergoing medical treatment in some exotic locations can be a good option.  It will not only reduce the IVF cost to almost half but also give you a new perspective.
Eggs Sharing between two couples– For those who need IVF with Egg Donor, this is very good option. In this case, a good egg donor is selected and her eggs are divided equally between 2 couples.  The good thing is that cost of Egg Sharing IVF is low and it can be affordable for 2 couples.  The down thing is that number of embryos created can be low as only half the eggs are given to each couple.  Nevertheless, it can be a good option to try.  If all goes well, you might be successful with first embryos transfer and can also freeze few for the future attempt!
Cross-border surrogacy option– Surrogacy cost is higher in countries like USA and UK.  So, the key is to look out for countries where surrogate mothers are available at low compensation.  It is good to look out to countries where surrogacy is commercially allowed with good medical facility.    There are many third- world countries which were surrogacy hub at one time, but most of them are closed or getting closed.  Surrogacy in India, Surrogacy is Thailand, surrogacy in Nepal and Surrogacy in Cambodia were very popular option at one time.  But as of now, each respective country has banned it.  Still few legally viable options in eastern Europe are available. Currently, surrogacy in Ukraine and surrogacy is Georgia and surrogacy is Russia are most affordable.  A new market in Southeast Asia, surrogacy in Laos is also coming up, but it is still unregulated.  You need to choose your best option considering your marital status, citizenship, financial situation.  It is advised to consult independent reproductive attorney to understand the cross-border surrogacy option for specific case.
Friend or relative as an egg donor- A friend or relative who is ready to donate her eggs can be a good idea. This will make the whole process easier as you are familiar with the person and she comes with added care and passion for you, not just for money.  It is wise to take care of legal agreement with a reproductive attorney to avoid issues later.
Friend or family oas a surrogate mother- Time and time we hear about cases where a mother or sister has become a surrogate  If you can find someone within the family, it can be very assuring emotionally and financially as well.  Such decision is filled with love and compassion and surely, they are the one cherished for a lifetime.
Surrogacy agency who give values for your money– While choosing surrogacy agency it is important to know what all service are included and what not.  Take a break down of cost with clear mention- what is IVF Fee, Egg Donor fee, Surrogate fee, and antenatal care fee?  Do ask for an incidental fee like baby delivery fee, what if surrogate conceive twins, PGD (Pre-Implantation genetic diagnosis) fee.  Generally, for a successful pregnancy, it takes 1-3 attempts of embryos transfers.  Ask your surrogate agency to give you 3 attempts of embryo transfer in one-time agency fee.  There are many agencies who do it without charging additional fee for second or third attempts of embryos transfers. Even if you are not successful in first embryos transfer, you will be at peace to know that you can still try 2 more times.
If possible, opt for the Guaranteed program– In Guaranteed program, although the fee is higher but it is the obligation of Fertility specialist and surrogacy agency to do everything possible in their control to give you a successful outcome. They will recruit a young egg donor with a good number of eggs or proven egg donor for you.  A surrogate mother with good health and immunity.  Preimplantation genetic diagnosis (PGD) is also done in such cases to make sure only healthy embryos are used for transfer.  PGD also rule out any genetic defect in embryos, which can boost implant chances and reduces the miscarriage in early pregnancy.  Generally, for accepting for such program, agency will define few parameters for you.  Nevertheless, it gives you great peace of mind to see someone is delicately working to achieve the dream of parenthood for you.
As every pregnancy and childbirth are different, so each parenthood journey via fertility treatment is different.  For some it does work for the first time and for some it takes couples of attempts.  What is important is not give up on most cherished dream.   Be positive, be patient and be persistent.
Would love to hear about your experience and what specific you did that can helpful for prospective surrogacy seeker.